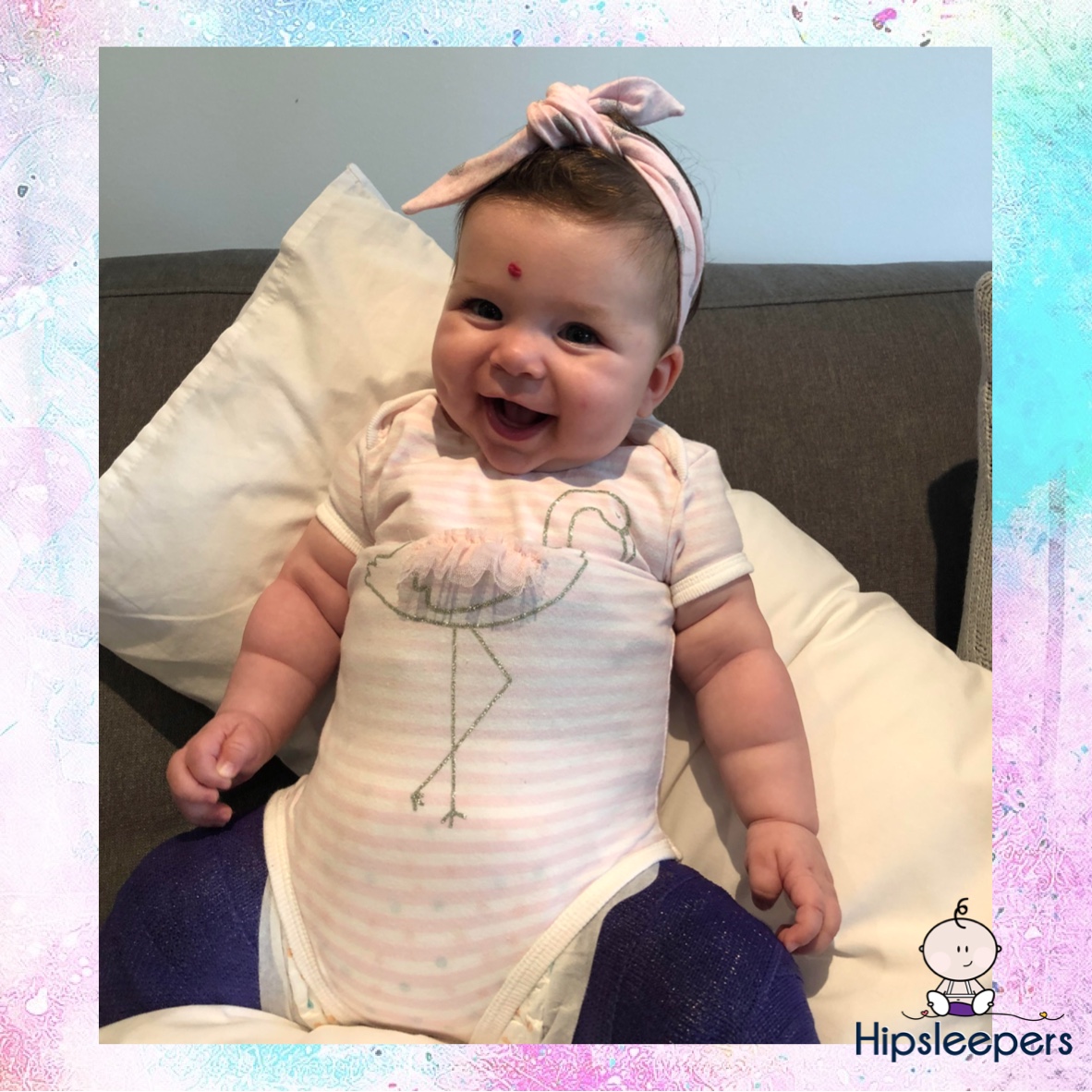 Here are our tips to get you through a spell of hot weather when you have a baby in a hip harness, brace or cast:
Tip 1: Invest in a Dreambaby foam pram fan or 5 ($10) and take it with you everywhere, especially for car rides, to take the edge off.
Tip 2: Use the cold setting on a hairdryer to circulate cool air through a spica cast and dry up sweaty skin. You could also invest in a Cast Cooler ($36 + shipping) if your baby's cast is made of "breathable" material.
Tip 3: If your baby has hair, keep it damp and turn on the fan.
Tip 4: Keep exposed skin damp with a spray bottle (e.g. head, arms, chest and feet.
Tip 5: Put a wet facewasher on the back of baby's neck, forehead and/or feet. You can cool the facewasher down by putting it in the fridge for a few minutes first.
Tip 6: Change positions regularly so that baby doesn't get an extra sweaty back.
Tip 7: Use clothes and cot sheets made from 100% cotton.
Tip 8: If you're still swaddling, try to transition to arms out ASAP.
Tip 9: Go to shopping centres, the library, etc and take advantage of their airconditioning.
Tip 10: If you don't have airconditioning at home, invest in a portable airconditioner for baby's room. You can get some as cheap as $59 - do some internet shopping for different options. You could even get a bargain secondhand on Gumtree.
Tip 11: Give baby a chilled teether to chew on ($5 - $10 from Target).
Tip 12: Use a pet cooling mat!! These things are great, just ignore the dogs on the packaging. You can get them from heaps of places including Kmart (small ones are $12, large are $20).
Good luck!
Special thanks to Jackie for sharing some great tips and letting us use this gorgeous pic of baby Harper.
---
For more posts about life with a baby receiving treatment for developmental dysplasia of the hip, browse our blog here: https://www.hipsleepers.com.au/blog/
To view our range of specialty hip dysplasia baby clothes and accessories, click here: https://www.hipsleepers.com.au/shop-by-treatment-type/